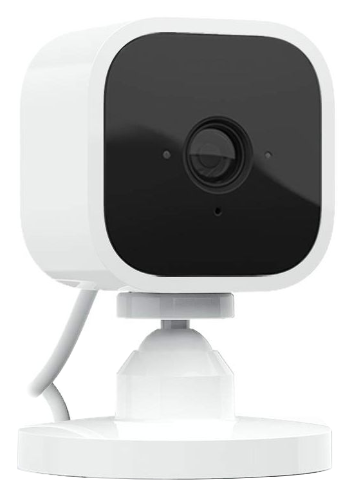 What is Blink Mini?
The Mini is Blink's compact indoor plug-in smart security camera with 1080p HD video, night vision, motion detection, and two-way audio. You can also use your Mini as a chime for the Blink Video Doorbell. 
Cloud storage is available for your Mini when you have a Blink Subscription Plan or you can use Local Storage with a Sync Module 2.


Where can I purchase the Blink Mini?
For other countries, please stay tuned to blinkforhome.com for more information, or sign up to receive our newsletter alerts about future releases.
Delete
How does my Mini work with other Blink products?
The Blink Mini is lightweight and versatile. It doesn't use batteries, and does not need a Sync Module to operate or provide features.
(US and CA) You can add the Mini to any system with a Blink Video Doorbell and have the doorbell chime play through the Mini. This way you can be alerted to visitors when you are not near your phone, or if your home doesn't have a chime installed. Learn about using your Mini camera as a chime.
Add your Mini camera to any system (including Mini or Video Doorbell cameras) for group arm, disarm, and scheduling features.
Delete
Does Mini require a Sync Module to work?
No, Mini just requires 5 volt, 1amp, standard USB power through the included adapter, and an always-on Wi-Fi internet connection. Mini does not need a Sync Module, but is compatible with one. Adding the Mini to an existing system allows for shared scheduling. Add Mini to a doorbell system and it can act as a chime for the doorbell.
Delete
I own another Blink system, will Blink Mini work with this?
Yes, Mini can be added to any Blink System, even the Blink Video Doorbell. If you had an account on or before April 15, 2020, media storage for your Mini operates like the other camera systems you already have.
Delete
How do I arm my Mini to record motion?
Once your Mini is set up, you can Arm and Disarm it from the Blink app Home screen. Mini camera settings allow you to control if clips are saved, when you are notified, and what kinds of events create a notification. For more information, read the articles below.
Delete
Is Mini Alexa compatible?
Yes, you can view live streams, playback motion clips, and arm/disarm your camera when you enable the Blink SmartHome skill. Learn more about Alexa integration.
Delete
How does Local storage work?
A Sync Module 2 is required for Local storage. When your Mini is not part of a Blink Subscription or trial, and a recognized USB flash drive is inserted into the Sync Module 2, your motion clips automatically save to the USB drive. 
Note: The Mini must be added to the same system as the Sync Module 2. If the Mini is a part of its own system, delete the Mini and add it to the Sync Module 2's system in order for Local storage to work.
Learn more
Delete
Are my other cameras compatible with the local storage functionality?
In addition to Blink Mini, local storage with a Sync Module 2 is compatible with:
Outdoor 4 Camera
Outdoor Camera (3rd Generation)
Indoor Camera (3rd Generation)
Blink Video Doorbell
Wired Floodlight Camera
Learn more about Local Storage.
Delete
Will Mini work outdoors?
No, the Mini camera is only for indoor use.
Delete
How long is the USB cable?
The supplied USB cable extends to approx. 76 inches (193 cm).
Delete
Can I extend my Live View sessions since Mini is powered by a USB cable?
Yes. Blink Subscription Plans enable many premium features including Extended Live View - exclusively for Blink Mini cameras. Extended Live View provides images and sound directly from a Mini to the Blink app for 90 minutes with a single tap. Live View sessions with a subscription plan are normally five minutes long.
When your Mini camera is not part of a Blink Subscription Plan, the Live View sessions are 60 seconds long. They can be extended to five minutes by tapping Continue when it appears every 60 seconds.
When using an Alexa compatible device, the Live View session is five minutes by default.
Delete
Can a Mini detect motion through a window or glass?
The Blink Mini was not designed to detect motion through glass and the results can be unreliable; therefore, we do not recommend using your Mini to detect motion through a window.
What if I have more questions?
If you are in need of further assistance, contact Technical Support. We are available 24 hours a day / 7 days a week.
Delete