If you are replacing an existing Sync Module system with a new Sync Module, you must delete the original Sync Module before adding the new one. You will not have to delete or re-add any cameras in the existing Sync Module system. Once you add the new Sync Module to your Blink account, the system is ready to use.
The following steps explain how to first delete your Sync Module.
Delete your Sync Module
From the home screen, tap the Sync Module icon to display the Sync Module screen.


On the Sync Module screen, tap the Delete Sync Module button. A popup will appear suggesting you contact Customer Service.
Dismiss the popup by tapping OK.

To delete a Sync Module, you are required to enter or scan its serial number using the QR code. The number label can be found on the back of the Sync Module. Scan it with your mobile device's camera or enter it manually.



You will see a final popup asking if you are sure. Tap 

DELETE

.

5. As a final step, unplug the Sync Module to clear any old settings.

The Sync Module is then deleted from your account. An email is also sent to your account confirming the action has been completed.
Note: The system your Sync Module was attached to was not removed, along with any associated cameras or other devices.
Once your older Sync Module is removed, you then have the option to add your new one in that same system.
Add a Sync Module to an existing system
1. From the home screen, tap the Add Device + icon.
2. The Add Device screen displays your device options.
Blink wireless camera system - A system contains a Sync Module and Blink Outdoor 4, Indoor and Outdoor (3rd Gen), XT2, XT, or 1st Generation Indoor camera. Start here if you have these cameras.


Blink wireless camera - This option adds a Blink Outdoor 4, Indoor and Outdoor (3rd Gen), XT2, XT, or 1st Generation Indoor camera after you have added a Sync Module.


Mini camera - The Mini camera does not require a Sync Module as it manages its own system, but a Mini camera will act like other Blink cameras when it is added to a system managed by Sync Module. Your selection opens the QR code scanning screen.
|


3. The serial number is also printed as a QR code. To scan a QR code, the Blink app requires permission to access the camera on your mobile device.
Tap OK to permit the Blink app to scan the QR code, automatically entering the serial number. If you prefer, you can deny access to the camera by tapping Don't Allow and enter the serial number manually.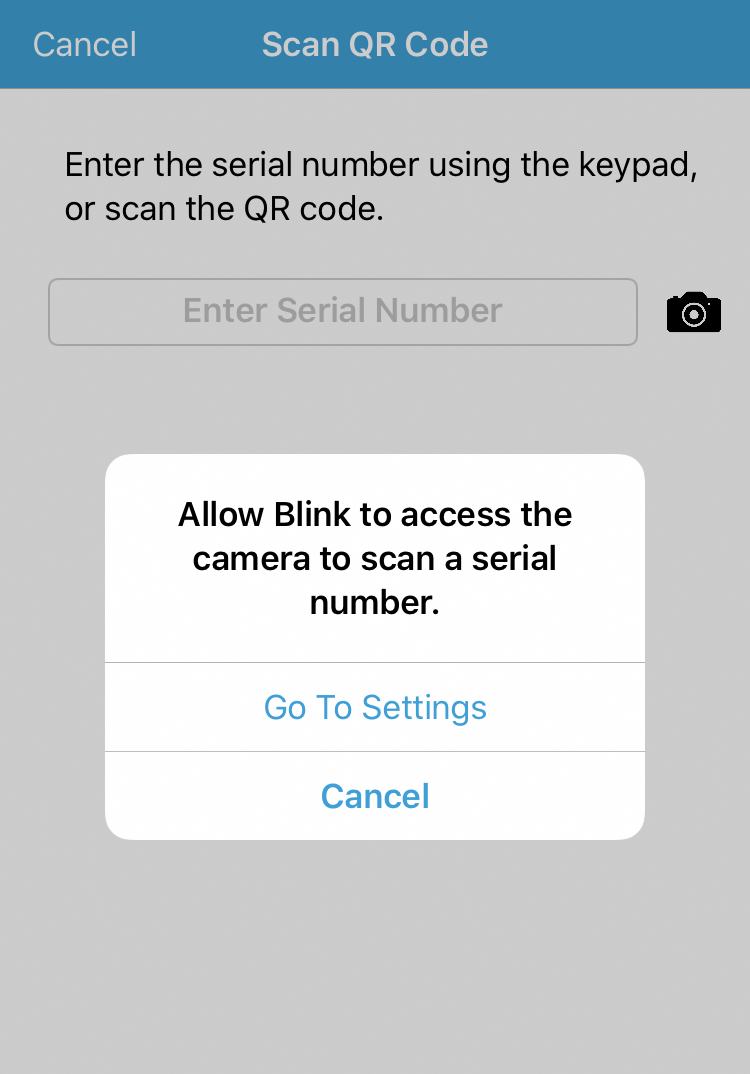 To learn where the QR code and serial number are, tap your product image at the bottom of the Scan QR Code screen.
4. Tap on an existing system that contained your deleted sync module, to add your new one.
5. The Add Sync Module screen will instruct you to plug in your Sync Module and then wait for the light pattern of blinking blue and steady green.

When you see this pattern on your Sync Module, tap Discover Device.
Note: If you don't see the above blinking blue light pattern, then you may need to reset the sync module. Click here for more information.


6. The Blink app needs to connect to the Sync Module's Wi-Fi network. It is named "BLINK-" followed by four digits from the Sync Module Serial Number.
Tap Join, then you are asked to join your local Wi-Fi network.
7. The Add Sync Module screen displays 2.4 GHz Wi-Fi networks within range.  The Sync Module stores network information for devices that are added to its system. If you do not see your local Wi-Fi network, tap Refresh List at the bottom of the screen. You can troubleshoot Wi-Fi connections here.
8. When you tap your Wi-Fi network name, you are presented with a password entry field. Ensure that your password is correct before you enter it. Incorrect password is a common cause of difficulty getting started. Tap Join to continue.
9. When network setup is complete, you are notified on the screen. Tap Done to complete the install process and view the Blink app Welcome screen where you can see your existing cameras.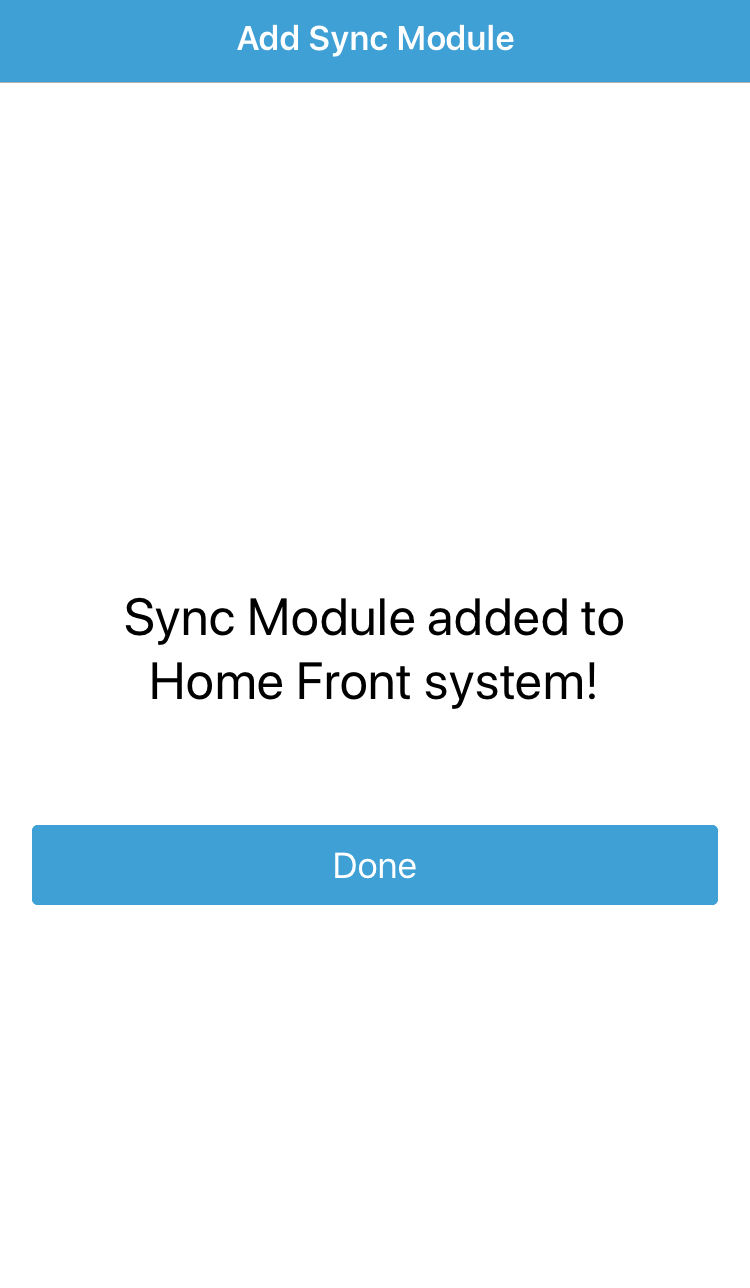 The system name appears at the top of the Home screen. You are notified that the Sync Module has been added, the 'cloud' icon shows a green connection line indicating that the Sync Module is communicating with the Blink servers.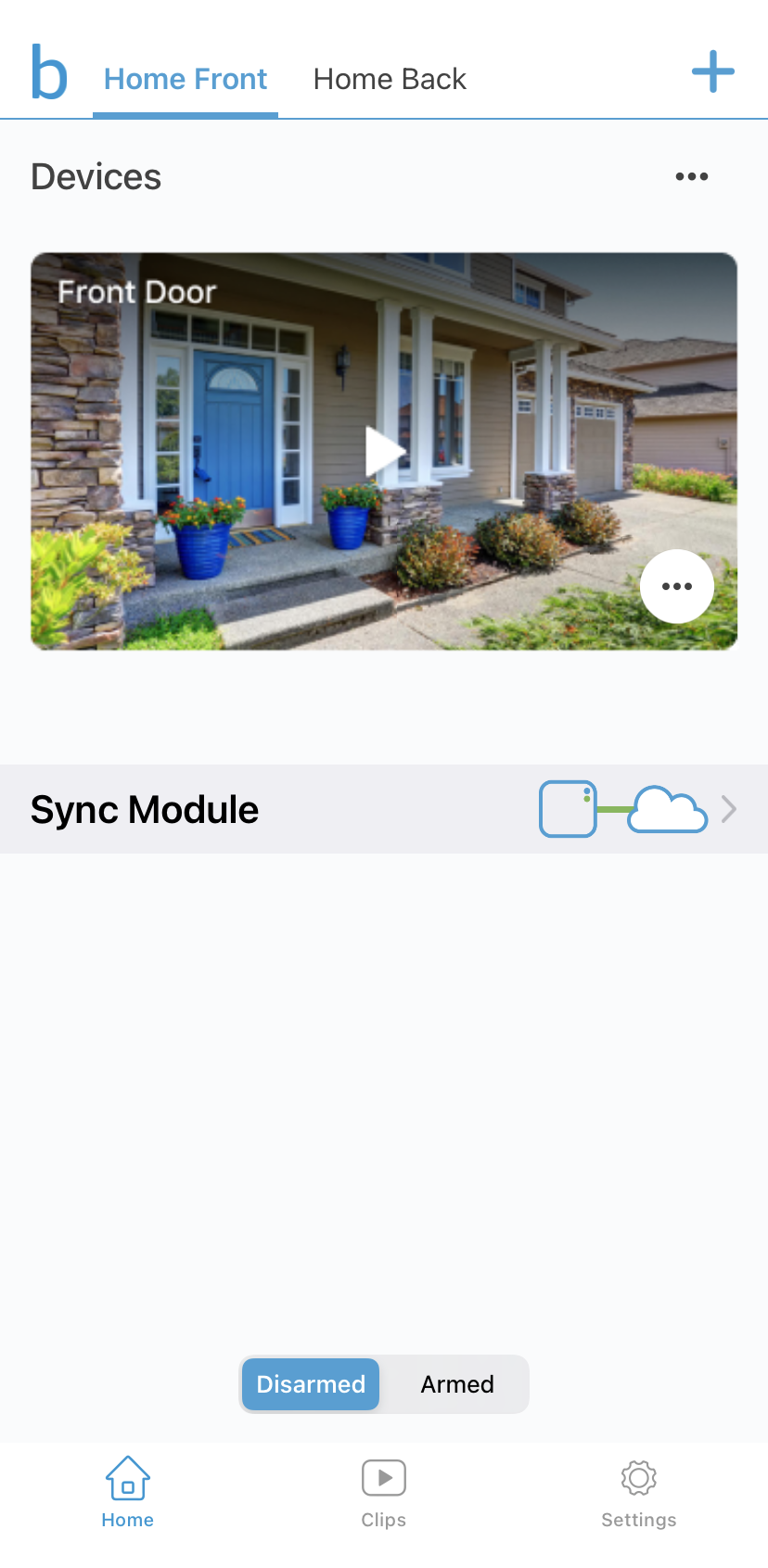 If you are unable to add your new Sync Module, please contact Customer Support.